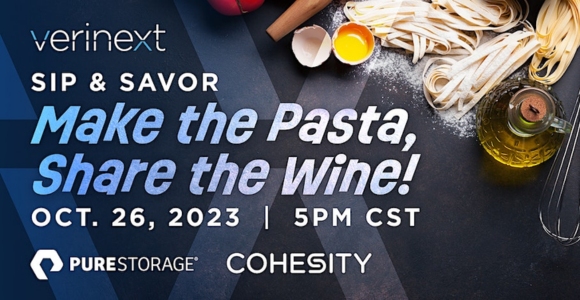 Sip and Savor: Pasta Workshop
A Pasta Making Class You Won't Want to Miss!
Verinext, Cohesity and Pure Storage for our interpretation of a date night on Thursday, October 26th at 5:00PM CST at the Grand Bohemian Hotel.
Bring a guest for an evening of networking over a fun interactive cooking class.
We can't wait for you to sip and savor with us while we all make pasta and share in all the delicious wine and beverages together!
Did you know that fresh pasta is incomparably delicious and far superior to its dried and processed counterparts?
It's also relatively fast and easy to make with the right coaching and knowledge. You'll taste the difference during this interactive class, where you'll whip up plates of hand-made noodles and filled pasta alongside several foundational sauces and a delectable dessert to finish.
We look forward to seeing you and your guest at our event register today!