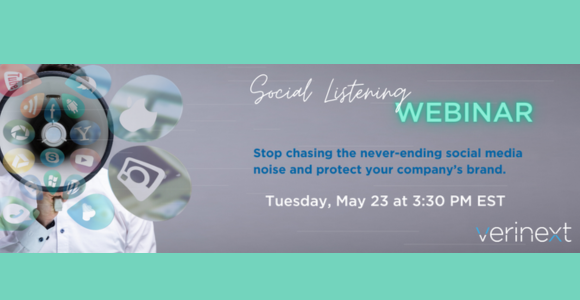 Social Listening Webinar
We're excited to launch our 'Social Listening' Webinar hosted by our very own Social Listening team on Tuesday, May 23rd at 3:30 pm EST!
Many of you have attended our recent enablement sessions to understand better what this team can offer our customers and prospects; however, did you know…
Our Social Listening analysts have expertise in pharma, healthcare, consumer goods, the food and beverage industry, telecom, and education.
Our Social Listening team can offer customers/prospects a short, preliminary report.
Our offerings can be white-labeled for marketing agencies, meaning our Verinext team will become an extension of their team to provide their customers with this critical information.
Social Listening is an imperative practice for companies who want to be tapped into customer feedback, emerging trends, and competitive intelligence.
These are just a few facts and highlights, but there is so much more to Social Listening. Your customers could be missing out on vital information and insights necessary to protect their company's brand. 
If you are a Marketing Manager, Directors, or Executive, or involved with marketing communications, branding, and public relations this webinar is for you.
Tips:
Utilize your ZoomInfo tool to search for the right target audience.
Ask your customers for their company's marketing contact(s) to invite.